Cosafe is a Swedish Sectech company that helps organizations keep employees safe and informed by securing that the right information is reaching the right person at the right time. The cost-effective communication and security platform for alerting, managing, and preventing incidents is very successful in the Swedish market.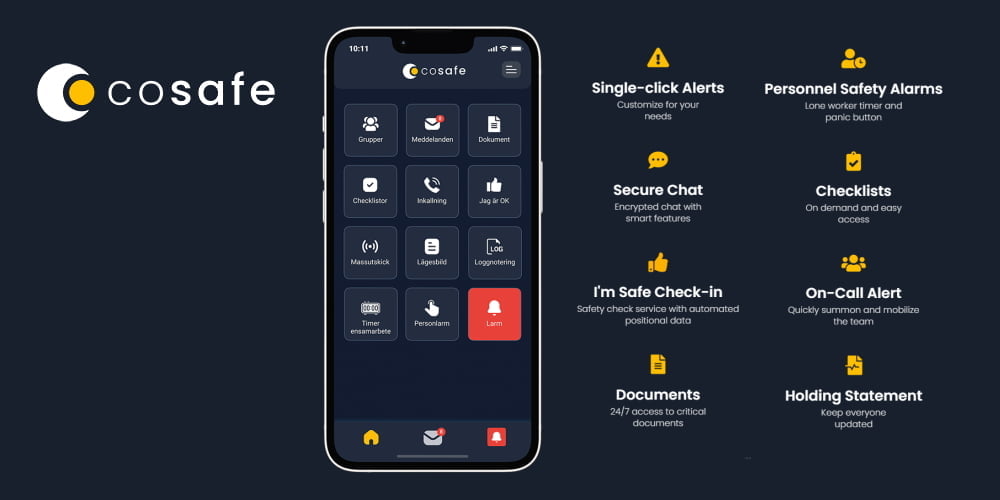 Today Cosafe is trusted by thousands of users in SMBs, large enterprises, municipalities, and schools. Over the past two years, hundreds of security managers have been actively engaged in developing the Cosafe platform, which has resulted in a easy-to-use, powerful and customer-centered solution for enabling safe, resilient, and sustainable organizations. While Sweden is still the company's largest market, the Latin American and European markets are expected to multiply in the coming years.
Cosafe is announcing today that the business is starting a new chapter with the expansion to the Netherlands, Belgium and Luxembourg.
Cosafe has entered into an agency agreement with Dutch company Explicate that will entitle Explicate to represent Cosafe in the Benelux region. "We are very excited about this collaboration with Cosafe. Cosafe has an impressive install base in Sweden in numerous organisations," says Maarten Mijwaart, MD of Explicate. "Whenever there is a security or safety incident in an organisation, the staff can collectively be informed immediately about the situation and secure and reliable communication channels between the right people are available to make sure that everybody is safe and the incident is managed adequately."
"The customers appreciates our user friendly platform designed for simplicity. Users learn the basics in under an hour and administrators become power users in less than a day. Cosafe is as easy as it gets.", explains Alexis Nicou, CEO of Cosafe.
"In the event of a critical event such as an accident, threat, violence, cybercrime, media crisis, or extreme weather, our customers can communicate easily and quickly. The right information is sent to the right person at the right time, which helps leaders regain control of the situation and lead the crisis management activities regardless of location. Our customers feel safer, well-prepared and able to minimize the detrimental effects of a critical event, says CEO Alexis Nicou.
"The first step of our international expansion was the successful opening of our office in Brazil for the Latin American market. We are thrilled that we will now also be able to provide our service to new customers in the Benelux."

Press contact:
Alexis Nicou – CEO and Co-Founder Cosafe
+46 70 795 61 61 / alexis@cosafe.se

About Cosafe:
Cosafe is a Swedish SaaS sectech company that helps organizations keep employees safe and informed. The platform is the solution to critical communication in all situations, regardless of where you are. Trusted by thousands of users including SMBs, large enterprises, municipalities and schools. All data is stored in sustainable and climate-friendly GDPR compliant and ISO-certified data centers of the highest security class. The company is based in Stockholm, Sweden and São Paulo, Brazil.
See https://cosafe.se/ for more information.

About Explicate:
Explicate is a Dutch company that is providing agency services to several security brands. Finding channel partners, activate them and work hard with them to increase sales volumes. Securing business connections, that is what Explicate is about.
See https://explicate.nl for more information.